Poverty alleviation in the Thar Desert
Poverty Alleviation in the Thar Desert

For the people living in the Thar Desert region of Sindh, drought is a frequent threat and one of the major causes of poverty and deprivation.
This project (June 2004 – Nov 2008) involving the following activities helped 1,100 families (6,600 people) in 20 villages cope with this situation and build up resilience for the future:
Village Development Organisations were




established in 10 villages.

Provision of 800 water harvesting tanks and 800 fuel efficient stoves.

Provision of materials and training of women in embroidery and their civil and political rights.
This video gives an indication of what life is like for people living in the region: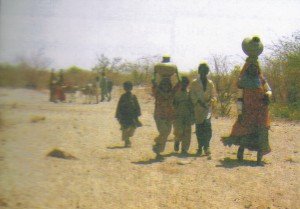 Training was also provided for the families and the community as a whole in HIV/AIDS awareness, controlled grazing practices and management techniques.
The outcomes of the project included:
A 12% increase in the numbers of girls

being enrolled in primary education.

A drop of 10% in the incidences of cholera

and infant mortality.

A 27% decrease in eye problems and

chest infections of women beneficiaries.

Better access to water by all the

beneficiaries during periods of drought.

Communities gaining more confidence to

campaign for their statutory rights and the

women becoming more involved in village

decision making.
The project managing partner, Participatory Village Development Programme (PVDP), was well established before this project started.
The project was visited by FIOH Fund assessors, Eddie Thomas in 2005 and Joanna Heaven in 2008.
The PVDP poverty reduction model, which involved establishing Village Development Organisations and an Integrated Management Committee, was used in the Eucalyptus Replacement Project in Cameroon and proved to be a very effective method of involving all the stakeholders.
Poor people benefitting from the project:
Three case histories
If you would like to support the work of the FIOH Fund please make a DONATION: