Plant a Tree in Africa projects
Tree planting projects have been supported by the Charity in Cameroon, Ethiopia, Ghana, Kenya, Sierra Leone, South Africa, Tanzania, Uganda and Zimbabwe.

Ghana


The Atuba-Agumishe Community Livestock and Crop Farmers Association had two nurseries and two plantations in the Atuba-Agumishe area, one of three acres and the other of five acres.  Teak, Neem, Cassia Albesia and Mango were among the species planted.  These plots were community land and the women that plant and take care of the trees worked voluntarily on the understanding that they will reap the benefits.
Many thousands of seedlings from the nurseries were  given out to schools, community groups and to individual association members who were required to plant 15 trees each year on their own land.
The director and founder was Guy Williams Mbilla who had been planting trees since he was a child.
A grant of GH¢1,214.33 (one thousand pound sterling) was donated to the Atuba Co-operative Farmers Association by Plant A Tree in Africa, UK in March 2010 for construction of a tree nursery to enable the association to continue with its tree growing programme.
Activities:
Procurement of cement
Chain link wire
Wood preserver
Procurement of wooden poles. Some of the poles were donated by the community itself.
Labour:
Well excavation was by hired labour, since it required some skill.
Well lining: by hired labour.
Manufacturing of lid to cover the well: by hired labour.
Digging of holes for wooden poles and treating them: by community.
Erection of poles and wire fencing: by hired men.
Sand and stones supplied: by the Association members.
After all these activities the Association started preparation of the seeds.  Mango seeds, albezia (330), neem (412) and teak were planted.  The Forestry Department supplied 3,500 teak seedlings which was sufficient for 3 acres of land for 2010.  A total of about 4,452 seedlings were planted on the association's tree farm in 2010.
The government initiated a programme called "GREEN GHANA ".  This project aimed at combating the serious threat of the desertification facing the country.  In this programme every community was tasked to undertake a community tree planting, except communities who have no land.  Under the programme the government provided incentives to the communities concerned to enable them to manage these farms.  The Association was chosen to be responsible for that project in the Atuba area, because of its long time experience in tree planting.  An area of land of about 50 hectares was  acquired for this purpose and  teak seedlings were planted in an area of 8 hectares of the land between June and August 2010 as that period was the best time for transplanting.
The Association in the 2011 season started its tree nursing as early as November to ensure a good germination.  Schools were given free seedlings for planting on their schools plots.
Krobo Community Afforestation Project
PATIA made several small grants between 2006 and 2008 to support the tree planting activities of this NGO.  Most of the tree planting and nurseries were located along the banks of the Sawsaw and Tano rivers in the Techiman district of Ghana.  The trees grown were used for afforestation, erosion control and to provide wind breaks in towns and villages.  The species planted were mahogany, odum cassia, emire and ofram, paopao and ciderella.  The project started in April 2006.  The project was extended in 2008 and further planted species included mangoes, cashew (nut), avacado pear, oil palm, moringa, leucaena and gliricidia.  West African locust bean was also combined with the tree planting.  Overall about 1 mil trees were raised.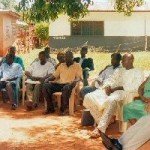 Workshops organised for the Nkwaeso and Baafi communities on the importance of agroforestry and the appropriate distances between trees and crops.
Erosion control training organised on 14/15th May 2007 in the Ahenfi region.  The training described how delta grass and the use of an 'A' frame for land contouring are used to prevent erosion,  preparing compost and filling polypots ready for neem seeds – 2007

Mahogany, odium cassia, emire and ofram seedlings being raised in the nursery and planted out on 40 acres of land near the Tano and Sawsaw rivers by the Krobo Community Afforestation Project.  Outplanting was started on 1st May 2006 and finished on 17th June.
Preparing topsoil for filling polypots – 2007.
Watering seedlings. Seedlings raised after a second grant from PATIA
Afforested area in 2009 from seedlings planted in 2006.
Moringa, ciderella, mahogany and ofram seedlings in the Nkoranza nursery site – 2009.
Mango seedlings at the Nkoranza nursery – 2009.
Mahogany, odum, emire, ofram, wawa, oil palm, cashew, mangos, citrus and avacado seedlings at the Sawsaw nursery – 2009.

2009 – Maturing moringa trees outplanted from the nurseries in 2006.
2009 – Maturing ofram trees along the River Nyeene outplanted from the nurseries in 2006.
In 2008 the Krobo Community Afforestation Project was disbanded and reformed under the name Permaculture Ghana.  The director, Paul Yeboah and his wife and son are seen here in their permaculture designed garden.
Koase JHS pupils tree planting.
Kase Primary School children being taught permaculture methods.
Permaculture Ghana
The Permaculture Project in Ghana co-ordinated by Paul Yeboah has placed a large focus on working with women farmers and environmental education with children of all ages (eg. Carbon credit/oxygen from trees, food and nutrition, soil improvement and animal fodder.  After such a workshop with the schools the project also provides them with tree seeds and polypots for nursery practices and management.  Vegetation cover in the region is being lost very fast and the project training is expected to bring about a big change in attitudes in the area towards the environment and the value of tree planting by the year 2017.  Tree species being planted include acacia siamea, moringa, mango, citrus, mahogany, cocoa, cederella, albizia, teak, leucaena, gliricidia, ofram and millitia. The project also includes instruction in organic methods of gardening.  Ghanains in general do not add enough vegetables/fruits to their food as such and education is provided to the school pupils in the importance of a balanced diet.  The focus of the organisation's activities recognises the importance of a balanced diet of vitamins, minerals and amino acids for good health.  Deficiencies in any of these nutrients can lead to health problems – scurvy can be caused by a lack of vitamin C, night blindness by a lack of vitamin A, kwashiorkor by a lack of protein, anaemia by a lack of iron.  Other health problems can be caused by a lack vitamins obtained from vegetables, fruits and moringa leaves.
If you would like to support the work of the charity please make a DONATION: