Plant a Tree in Africa projects
Tree planting projects have been supported by the Charity in Cameroon, Ethiopia, Ghana, Kenya, Sierra Leone, South Africa, Tanzania, Uganda and Zimbabwe.

Kenya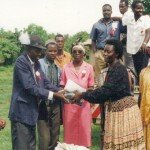 PATIA has, since its inauguration in 1986, periodically supported the tree planting projects of Future in Our Hands Kenya.  FIOH in Kisumu and Kimilili near Lake Victoria have involved womens groups in setting up nurseries and transplanting many thousands of saplings, most of which have now reached full maturity.  The co-ordinator, Romulus Wandera,  also helped many primary and secondary schools to establish their own tree nurseries.  PATIA has also provided a small grant to enable several groups of high school pupils to visit and learn about the the local tropical Kakamega Forest*.


* The Kakamega Forest is the eastern most relic of the equatorial rainforest and the only one of its kind in Kenya. It is home to a unique variety of endemic and rare species of plants, mammals, birds, insects, reptiles and amphibians. At the beginning of the 20th century it had an area of 240,000 ha, but has now been reduced to 23,000 ha.  The canopy cover has been reduced by half .  Several species have become extinct as a result.
The photographs above show FIOH tree nursery activities  in areas of the Western region of Kenya – Muhoroni, Kimilili, Seme and Busia (Rom's home village near the Uganda border). 
Sadly Romulus Wandera died on 22nd Jan 2012 and a nursery in his home village of Busia has been dedicated to his memory.
If you would like to support the work of the charity please make a DONATION: