Dastkari centre for women, Multan, Punjab
Dastkari Centre for Women – Multan, Punjab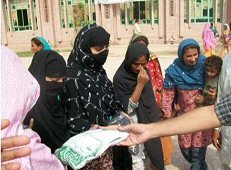 The project was managed by a local non-government organisation, Mohi E Watan.
The project equipped women with skills like stitching, sewing and embroidery.  The project was set up on 15th December 2013 for one year.
The main aim of the project was to provide vocational training to women in distress and detention due to petty crimes, victims of violence and poverty which would help to  empower the womenand girls and increase their income.  
MWWT  therefore devised and developed a project through mutual consultation with the help of key stakeholders and with the help of FIOH Fund UK.   The  target women groups have successfully completed their vocational training and started earning as self- employed.
During the project duration the  following results were achieved:
Vocational training provided to 100 women who were supported with equipment and materials to start their stitching small business.  All this was organised with the help of prison's management and social welfare department.  Some training was provided in prison and rest was provided during their rehabilitation at a Training Centre set up for this purpose.

Alongside vocational training, sessions to provide awareness of their rights and obligations were arranged to improve their understanding and confidence.

This has boosted their morale and motivation to become useful and independent citizens.

The additional training sessions of awareness and talks improved their interpersonal skills of team working, customer services, cooperation, listening and leadership that have proved very helpful during setting up their own small business and dealing with customers and clients.

A Stitching/Tailoring Training (the Dastkari) Centre was set up for women with provision of necessary resources to teach tailoring, cutting, sewing, embroidery and marketing skills;

This has enabled targeted women groups to set up small business to earn a living for themselves and their families honourably and enabled themto become economically independent and self-sufficient;

They have also become more resourceful and confident to recognise their basic rights and can access the agencies to seek help in case of need.

The 67 women have completed training successfully and are now working independently.  Each family they are supporting consists of about 6-10 people.  Hence on average they are supporting 8 x 67 = 536 beneficiaries;

This is very sustainable proposition as the grant funding spent is benefitting the family perpetually due to the skills development.  Some of these skilled women are now helping others in the similar situation. They are also helping their young children to start school education.

Women trained in stitching- receiving initial kits.
If you would like to support the work of the charity please make a DONATION:
Follow us on Facebook:
www.facebook.com/fiohfund
Follow us on Twitter:
twitter.com/fiohnet
Please share our links with your friends to help us reach a wider audience.