Beneficiaries of the Poverty Alleviation in the Thar Desert project
Typical case histories of three people who benefited from the Poverty Alleviation Project in the Thar Desert, Pakistan managed by the Participatory Village Development Programme:
Radha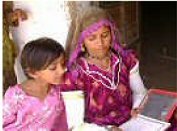 My name is Radha. I was selected as one of the beneficiaries of the FIOH PROJECT and I was given project management and handicraft skills trainings by PVDP and 25 fodder trees, 25 bair trees, one water tank, fuel efficient smokeless stove and a loan for handicraft making.  I had never in my dream thought this kind of packaged support for reducing our poverty and vulnerability.  Not only that my one son and one daughter were admitted in PVDP supported primary school but I also got the chance to learn to read, write and count up to 100 in adult literacy centre that was established by PVDP in our village.
I was one of the members of the Village Development Organisation  and took an active part in the meetings and trainings to improve my knowledge and skills which gave me a lot of confidence to make decisions about my life and my children.  I felt that I am terribly saved from falling into the trap of my in-laws who would never have given my children the opportunity to go to school.  Also they would never had allowed me to join the adult literacy centre, attend community meetings and workshops which opened up my eyes and mind and gave me so much confidence to spend my life peacefully as a free human being.
I really feel that I have come to new life.  The loss of my husband has been made good through PVDP support.  Today, I am happy that despite serious droughts over last year, I am looking forward to getting some income from the sale of bair fruits in one or two years from the 50% of the trees which I have saved during the drought.  I also managed to save 50% of the fodder trees on which my livestock will survive in the future years.  I am already getting some income from the sale of embroidery work.  I store my water in the tank which saves my time of fetching water from a distant well.  The time I save is spent in doing embroidery work, attending community meetings and training workshops.  I am also happy with my fuel efficient smokeless stove.  When I used the traditional stove, I often used to have sore eyes due to smoke emission.  With this smokeless stove I feel very comfortable, my eyes are protected, the stove uses less wood and cooks faster due to two burners.  With so much of support from PVDP our family's life has really changed.
I went to PVDP established vocational center in my village and learned to make purses and sewing clothes on sewing machines provided by PVDP.  After the training I am happy that I can sew cloth and can earn money from this skill.  I can also make purses which PVDP is trying to find market for. I am hopeful that when purses will sell and I can tailor make clothes for other people and earn handsome money which will help to reduce our poverty.  I have become alive again!  Thanks to PVDP and the FIOH Project.
——————————————————————–
Indra

I am Indra.  I have entered in the fourth year of this project which is helping to improve my family's socio economic position.  Now I am the active member of my village organization and active member of PVDP.  I attended all trainings conducted by PVDP and also attended all programmes organized in our village by our Village Development Committee.  Now I have the skills and confidence to give presentation of our community development work to our village people and outside visitors.  I was also made aware of the important role of mother in looking after the children and their schooling.  Now I take good care of all my children.
I also send my children to school and at home I make them study.  I also help them where I can in their studies.  I am supporting my community to becoming literate.  Adult literacy classes are conducted in which I teach women to read, write and acquire numerical skills.  The trainings and seminars I have attended have helped me in becoming aware of community issues which need our action to address them.  I also realized that 8th class is not enough for me so I got admission for further studies.  I now study at home and go to city to appear in exam. I am hoping to complete my matric over the next two years.  I have a government job in which I am working as community health worker.  I am helping women in their pregnancies and safe deliveries.  PVDP health team regularly update my knowledge and skills about health care.  I am very thankful to PVDP and the FIOH Fund that through their support my own and family's life has changed.
——————————————————————-
Welayt

I am Welayt.  I have entered in the fourth year of this project which is helping to improve my family's socio economic position. Despite my disability I feel more at ease and involved in various opportunities created by this project.  After becoming a member of VDO for four years of this project, I have attended different training programmes and sessions such as handicraft training, livestock management training, and wild food preservation.  I can now take care of my livestock and this year we preserved different vegetables which helped to somewhat secure our foods.
My mother and me make embroidery work which get sold in the local market and we earn some income from this activity.  It is particularly helpful during drought times when most of our resources deplete.  It is my wish that our daughters go to school to get education at least up to primary level to learn some basics of education that could help them in their future life.
We are strictly bound to comply with the set of rules of this culture. The changing of culture is not as easy as changing habits; it needs self persuasion and discipline.  Earlier, women in my village were not allowed to attend meetings and trainings.  My husband, after attending various trainings of PVDP on civil & political rights, project management, and livestock management etc. inspiringly, motivated to his community to provide same opportunity to their females for becoming active member of VDOs.  But no one was agreeing for this change.  PVDP in that situation organized more meetings and trainings to convince our community for female participation.  Then, PVDP selected 16 households as beneficiary of FIOH Fund UK Project.  We were provided with water tanks, bair trees, fodder trees, fuel stoves, and embroidery support loan with informative trainings.  We hope to have more income in future through sale of bair fruits and handicraft work.
I am thankful to PVDP for providing embroidery skills to me and my daughters who cannot be educated due to our rigid culture, but they learned skills to earn at home.  Another good thing happened is that my daughters can write their name and know counting of numbers by attending classes in Adult Literacy Centre of PVDP.
——————————————————————————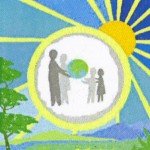 Follow us on Facebook:
www.facebook.com/fiohfund
Follow us on Twitter:
twitter.com/fiohnet
Please share our links with your friends to help us reach a wider audience.