Global Rehabilitation Services
Global rehabilitation Services (GLORES)
GLORES was started in 2004 by Cameroonian, Alfred Wingo, after receiving prosthetics training in the USA.
The work of GLORES in a poor rented building in Bafoussam, capital of the West Region of Cameroon, was observed by FIOH Fund trustee, Mike Thomas in 2009. He was impressed by what  GLORES was achieving with very basic equipment.

A video showing Mike Thomas interviewing Alfred Wingo.
Disabled people in the West Region of Cameroon, especially children, suffer from neglect and discrimination due to ignorance and cultural beliefs about disability.  There is a general lack of care and rehabilitation planning in the country and disabled children, who are mostly from poor families, rarely obtain an education and employment.  They are often viewed as being possessed of evil spirits and a curse upon their parents.  Hence they may be locked up at home and fed like animals and hidden from society.  It is estimated that about 70% of disabled children suffer from neglect and discrimination.

GLORES organises its work in three major sections:
Prevention of disabilities through health education and encouragement of parents to vaccinate their children against diseases causing disabilities. Part of the education focuses on prenatal/postnatal care, nutrition, hygiene, genetic information and environmental pollution.

Physical therapy that includes therapeutic exercises, mobility training, functional re-education, occupational therapy and activity training for coping with everyday life.

Vocational training in 3 trades.  The disabled person makes the choice of trade and is then able to undergo training in that trade for one year in a sheltered workshop environment. Younger children who cannot work are sent to local schools for their education.  While the child is in school parents will take an active part in its education and prepare to take over responsibility for the child's welfare later on.  After successful completion of the training disabled persons are settled in their individual group ventures or employment and there will be follow-up by GLORES for a few months after treatment and training has finished.
Once a disabled person goes through the GLORES project he or she becomes a member of the GLORES family.  GLORES monitors all the outcomes of its work in order to evaluate its effectiveness and introduce improvements where necessary.
The pictures below show some of the disabled youths and children before, during and after treatment: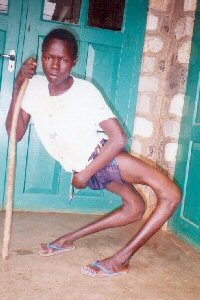 Moving testimonials of six of the children treated by GLORES
If you would like to support the work of the Future in Our Hands Education and Development Fund please make a donation:
Please support the work of the Future in Our Hands Education and Development Fund whose aim is to help and empower some of the world's poorest and most marginalised people by:
UK residents can provide long term support by completing the FIOH FUND DONATION FORM and sending to the address shown on the form:
Cheques should be made payable to the
Future in Our Hands E&D Fund
—————————————————————————-

Fundraising to help the work of the charities would be greatly appreciated