Treatment Centre for Disabled Children – Project update
New treatment and rehabilitation centre in Cameroon
Thanks to the generous support we received from our appeal last year, Global Rehabilitation Services (GLORES) has moved in to the newly completed treatment centre. It is 15km from Bafoussam, in the West Region of Cameroon, on the main road to Foumban.
The move was slightly delayed because of the rainy season, but the physiotherapy equipment has now been relocated from the old rented building and treatment has now begun. An official opening is expected to take place in September this year.
When our funding appeal launched in November 2016, the walls and roof of the building had already been completed and tree planting carried out on the site.
Donations since November have enabled the installation of toilets, wash basins, ceiling boards, windows and doors. The electricity has been connected and in use and Alfred is waiting for environmentally friendly and economical (low consumption) bulbs to use for lighting. The water supply has yet to be installed by the local water company and temporarily rain water is being used for washing and drinking water is being brought from the town.
What's happening now?
More than 80 children have been treated so far this year. A number of those have received treatment at the new centre since it opened in May, including: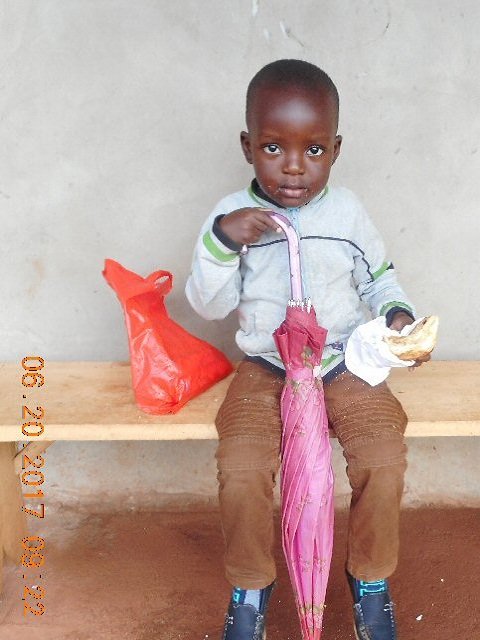 Nde Daryle, age 3, has had physiotherapy for bilateral valgus knees – and is showing continuing improvement. Nde's mother is a single parent and unemployed, so he is being cared for by his grandparents who are farmers.
Left: Djonge Anael, age 5, has had calipers applied for bilateral valgus knees and is also showing  improvement. Djonge is from a polygamus family of 10, her parents are aged and not working.
Right: Joumessi Frankie, age 4, is from a family of 7. His parents are farmers, 5 children go to school. Joumessi also had bilateral valgus knees and is now able to walk after treatment using splints.
Most of the children being brought to GLORES for treatment can be cured with physiotherapy alone whilst others with severe deformities will require corrective surgery. To understand the difference treatment makes, you can read testimonies of six children treated in the past. Despite the effort involved with shifting equipment and finishing work on the new centre, a limited amount of treatment was still possible in the old rented building.
The children above, whose legs were severely deformed, were successfully treated at the rented building. The girl with the red dress is walking for the very first time since birth, while the picture on the right shows the celebrations when a treated child returned to her village.
What are the challenges now?
Raising funds for the new centre took more than three years and there were many obstacles along the way. During this time Alfred's wife and two sisters have died. He also lost a brother in June 2017.  Despite this, Alfred has continued his vital work whilst supervising and organising construction of the new building.

In 2015 GLORES had to cut back on its activities due to the death of the founder of the Dutch trust providing most of its funding. This support was helping cover the costs of treatment and staff to assist with running the rehabilitation programme. Since then the Future in Our Hands Education and Development Fund (FIOH Fund) has been the main source of support.
One of the FIOH network partners, Wirsey Emmanuel from Cameroon Gender & Environment Watch, visited Alfred in May on our behalf to report on how the work was going:
"GLORES is now free from rent – which is a big relief. To control electricity shortages or blackout there is a need for a generator to supply energy for the workshops and solar panel system for lighting, especially when there is no work in the workshop.
More water harvesting containers are required to secure water in the rainy season, while waiting for the Government to supply water. The Bafoussam municipal stadium is close by and water going to the stadium has to pass by the centre. We are hopeful that the water supply will arrive at the centre before long.
GLORES sees the need for volunteers, either within or outside of Cameroon to give a helping hand. This is an opportunity to identify a reliable, committed and hardworking student or person who can be trained to work at GLORES and get further practical training from Alfred."
An administrative assistant has been appointed and a system of recording treatment details and providing feedback has been agreed with the FIOH Fund.
What is the key challenge now?
Now the building is ready and operational we are looking at creative ways to sustain the ongoing treatment costs of the centre.
The key challenge is developing a revenue – either as grants from charitable trusts, or generating a monthly income from donations and other means. We would like to establish a Friends of GLORES group of supporters who can make small regular contributions towards treatment costs.

One idea for gaining funds locally is to have a stall at the front of the centre, serving the public and passing traffic. This could operate like a roadside café – selling hot and cold drinks and snacks – and locally made handicrafts or generally useful items for the local community. With the electricity now connected it could also offer a handy mobile-phone recharging service.
Neighbours to the centre could be encouraged to provide rented accommodation for parents of children while they are undergoing treatment. There is also the possibility of renting parts of the building, for example meeting rooms for other community needs.
Please support the work of the Future in Our Hands Education and Development Fund whose aim is to help and empower some of the world's poorest and most marginalised people by:
UK residents can provide long term support by completing the FIOH FUND DONATION FORM and sending to the address shown on the form:
Cheques should be made payable to the
Future in Our Hands E&D Fund
—————————————————————————-

Fundraising to help the work of the charities would be greatly appreciated