Global Rehabilitation Services Report Sept 2019
REPORT SEPTEMBER 2019
 50 children came for treatment during the long summer holidays, including some who continued from the previous period especially those who need long term treatment. That is why some names are repeated in the two lists below. Of those who continued treatment, most of them successfully completed their treatment and went back to school normally to the satisfaction of their parents. Although the treatments are completed, we still give two to three months' rendezvous to make sure the deformations do not restart, in which case we intervene to avoid waste of effort and money spent in the treatments.
The number of children coming indicates that the new Centre is being easily located since we moved. There were difficulties initially for some people to find the location.
EVENTS
GLORES was once more invited to the Bafoussam Annual Development Conference. This is an indication that GLORES is getting known for it's development efforts in the area of social services in the Bafoussam community. The GLORES cultural group graced the occasion with traditional music to the satisfaction of everyone.
We purchased a lawn mower to reduce the expendure on hiring a gardener.
OTHER ISSUES
We noticed that water pressure in the pipes is low and a plumber advised us to raise the water reservoir a few metres up to solve the problem. Arrangements were made to do the work as the dry season starting in October. This is not a problem to get too concerned about but will make the use of water in the building more convenient.
We will organize an information meeting in GLORES new Centre in October during which we will invite some prominent personalities in Bafoussam  and the FIOH Network. This will serve as information meeting about disability, the work of GLORES and it should serve as a fundraising occasion.
SOME OF THE CHILDREN BEING TREATED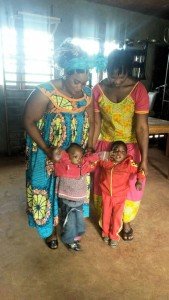 Mothers of two children being treated both taught how to work with children at home
Nembot, a 7 year old boy with fractured femur, immobalised in plaster
Foudyceu, a 5 year old boy with cerebral palsy undergoing ambulatory training
Check, a 4 year old boy with varus knees underoing preparation for splints
Donfack, a 5 year old boy with windswept deformity successfully treated using splints
Demanou, a girl with valgus knees before and after treatment
SCHEDULE OF CHILDREN BEING TREATED:
Please support the work of the Future in Our Hands Education and Development Fund whose aim is to help and empower some of the world's poorest and most marginalised people by:
UK residents can provide long term support by completing the FIOH FUND DONATION FORM and sending to the address shown on the form:
Cheques should be made payable to the
Future in Our Hands E&D Fund
—————————————————————————-

Fundraising to help the work of the charities would be greatly appreciated