Future in Our Hands Pakistan
Background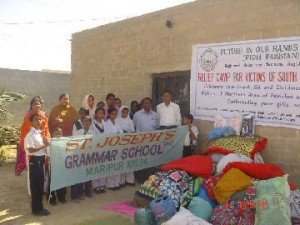 FIOH Pakistan is part of the FIOH International Network. It was established in 2005 as a non-profit civil society organization in Pakistan having national coverage.  Provincial offices will be located in all four Provinces of Pakistan at an appropriate time.
FIOH Pakistan has adopted the Principles of the FIOH Movement.
Aims and objectives
To advance public awareness that development is a matter of right rather than charity.

To propagate the removal of hunger as a means of establishing peace and tranquility among human beings.

To develop the capacities of people to honorably and boldly cope with their situation and work towards the establishment of peace.

To work towards Inter-Faith harmony between all people.

To promote environmental education for creating conditions for the greening of Pakistan and establishing environmental peace.

To promote a simple lifestyle by the more affluent people in society so that savings can be invested in social welfare of the poor.

To campaign for changes in the unjust social, economic and political systems and cultural attitudes which oppress or impoverish people, especially women and children.

To pursue the principles of the FIOH Movement through the services of an Information Centre and by fostering and co-coordinating the growth of local community groups.

To work in co-operation with like-minded organizations nationally and globally for the promotion of peace, tolerance, justice and equality of all human beings.

To develop networking with National and International Civil Society Organizations.

To disseminate information to all stakeholders including Government and Non-Government Organizations promoting the objectives and principles of FIOH Pakistan.
Help for victims of the earthquake in 2005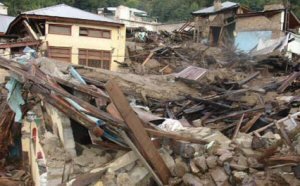 FIOH Pakistan, with limited financial resources, collected blankets and clothing to distribute to the victims of the earthquake that occured on 8th October 2005.   At the beginning of November 2005 the death toll was estimated at over 73,000.
With a small grant from the FIOH Fund UK, FIOH Pakistan  carried out a survey and feasibility study in the area affected with a view to providing longer term help to the victims in 3 or 4 villages by supplying goats, tree and vegetable seeds.
St Joseph's Grammer School in Karachi helped with emergency supplies.
FIOH Pakistan is working with the Participatory Village Development Programme (PVDP) and has no separate office yet nor staff.  It works on a voluntary basis. The activities conducted in 2009 and 2010 included:
Youth rallies for human rights and environment protection in Pakistan.

Awareness on the importance of National Identity Cards for government services and security.

Health and hygiene awareness among youth, women, girls, boys and minority communities.

Relief Operation in which food and non food items provided to flood affected men, women, children and minority communities in Sindh.

Formation of Youth Groups and capacity building for advocacy on human right.

Awareness on the importance of education for social development of poor communities.

Interactive Theatre used as a mobilization tool for creating awareness.
Pakistan experienced a series of disasters in 2010.
A massive flood engulfed half of Pakistan destroying life and properties all over the country.  More than 20 million people were  affected, exceeding the combined total of people affected by the 2004 Indian Ocean Tsunami, the 2005 Kashmir earthquake and the 2010 Haiti earthquake.  In funding terms, the revised inter-agency appeal disaster (US$ 2 billion) issued on 17 September was the largest ever, surpassing even that for the Haiti earthquake earlier this year with over 10 million children hit by the flooding.
World Environment Day was celebrated on 5 June at Hyderabad District by FIOH Pakistan jointly with the Environment Protection Agency and partner organization Participatory Village Development Programme (PVDP).  The purpose of celebrating the event was to undertake initiatives to mobilize communities to take environment friendly initiatives and reduce environment polluting activities.  Mr. Dominic Stephen and Mr. Irfan Abbassi were the main speakers after the rally conducted at the Hyderabad Press Club.  Speaking on the occasion Mr. Dominic said that it is the responsibility of both the government and the common man to take initiatives to keep the environment clean, otherwise we will have to encounter horrible consequences in future.  Mr. Irfan Abbassi official of EPA said the government is making efforts to ensure a clean environment for the public safety.  He maintained that local Government is ready to work with the civil society organizations on any environment issue.
In addition to this a theatre performance was presented to the audience at the conclusion of the walk at the Press Club.  A theatre team highlighted the common environmental problem caused by carelessness or lack of awareness of the people.  They brought it to light that plastic bags are a big problem and cause blockages in sewerage systems which creates health and sanitation problems. They asked the audience to use cloth bags instead of plastic bags for shopping.
To sensitize the community of Thar Desert about the importance of National Identity Cards FIOH and PVDP organized 5 awareness meetings in many villages of the Thar Desert.  In these meetings it decided that PVDP's Khushal Goth Markaz Committees (KGMC) will prepare the list of those adult men and women who have no Computerized National Identity Cards (CNICs) due to various reasons.
PVDP organized 5 Health and Higeine Awareness Workshops in 3 schools and 2 villages of taluka Nagarparkar, District Tharparkar jointly with FIOH.  90 school children and 80 adults including women and youth of the villages attended the workshops.  In these workshops people were sensitized about the following health and hygiene interventions.
· Care of teeth and trimming of finger nails.
· Body cleaning/bathing
· Wearing of clean clothes
· Hand washing after defecation/anal cleaning after defecation.
· House and kitchen and cooking pots cleaning
· Cleaning of village
· Clean drinking water/filtration of drinking water.
Youth rally for human rights
A remarkable Youth Rally was organized to sensitize the youth about human and social rights at Ratanabad, Mirpurkhas, Sindh.  Mr. Dominic was the speaker in the Rally and highlighted some of the main human and social rights violations taking place in Pakistan. 57 persons, including youth and people from different walks of life, attended the Rally.
Formation of youth groups
FIOH Pakistan formed three youth groups in 2010.  FIOH orientated and trained them for human rights advocacy.  These groups were formed in Tando Allahyar, Ratanabad and Mirpurkhas Sindh and these groups are active in their areas.
Education for social development of poor communities
Lack of education is one of the main reasons for poverty and this has created obstacles in the way of community development of poor people in Pakistan.  Most of the adults, particularly women, are illiterate and are unaware of modern tools and techniques that could enhance their quality of life and standard of living.  Very few women are literate and this puts them at the bottom of the social ladder due to the cultural mindset and traditional norms.  Due to lack of literacy and awareness the women are considered to be the weakest members of the family.
FIOH Pakistan believes that if adult members of the households are literate and educated, they can contribute towards the formation of an exemplary society in the country which can enable them to cope with their socio economic barriers.  FIOH and PVDP  therefore, organized 4 seminars to make the people recognize the value and importance of education.
Interactive theatre
As the theatre is one of the best tools to convey the message to communities especially to the youth FIOH Pakistan arranged 5 theatre performances during the year to mobilize and sensitize communities about different aspects of life including environment, human rights, literacy and health.
Response to the flooding
FIOH provided food and non-food items to flood affected men, women, children and minority communities in Sindh.
According to UN sources, 20 million were affected all over Pakistan. About a million houses were submerged.  Huge damage was caused to schools, health facilities, community centres, roads and other infrastructure.  40% of livestock and all crops were lost in flooded areas.  About 2000 flood related deaths were reported.  There were large displacements of people . Millions were forced to live on road sides and in school buildings, health centres and in camps.  They lacked food, health facilities, clean drinking water and other basic needs of life.
The worst affected were the women and children.  Women in pregnancies and deliveries suffered due to non availability of maternity facilities.  Children suffered from various diseases such as malaria, cholera, dysentery, gastroenteritis and diarrhoea due mainly to unclean drinking water and mosquito menace.
PVDP interventions
PVDP made a very quick response to flood affected communities in Sindh and chose Khairpur and Badin Districts which are the most severely affected in Sindh province.  PVDP provided dresses to the affected community before Eid-ul-fiter and provided food and non-food items and Mobile Medical Health Services to the affected community of District Khairpur and Badin of Sindh Province.  People were still living in the flood relief camps as refugees because their homes were destroyed.
Seminar


FIOH organised a one day seminar on 5th February 2011 on the Responsibilities of Youth in Society  at the Danishkad Hall, Caritas Pakistan Hyderabad office.
Speakers: Mr Dominic Stephen, Mrs Lina Khalid and Mr Shamoon Masih.  FIOH Pakistan has taken up the challenge to help the younger generation work towards the aim of peace promotion and poverty reduction in the country.
48 people from Hyderabad, Kotri and Mirpurkhas participated in this seminar.
Mr Manshad (volunteer in FIOH) welcomed all the participants and then gave a brief introduction to the seminar.
This was followed by an opening prayer led by Ms Maria.
Mr Yousaf Dominic then gave an explanatory introduction of FIOH Pakistan, its purpose and activities to date.
Mr Dominic explained that Future in Our Hands was an international movement.   The vision of FIOH Pakistan is to empower young people to play an active role in creating an environment of peace and a better quality of life for the people of Pakistan.  FIOH Pakistan is a partner in the Future in our Hands International Network.  It was registered in Pakistan under the Society Registration act of 1860 in 2005 and has been working for the development of the marginalised communities of the Sindh Province with the help of the Participatory Village Development Programme (PVDP).   He summarised FIOH Pakistan activities and its aims and objectives.
Dominic Stephen said that poverty is not a destiny but a man-made situation.  Poverty should be reduced by quality education, better occupation according to skill, refusing drugs and making and adopting a simple lifestyle.
Poor health is a major cause of poverty. People should therefore avoid drug and alcohol addiction and the smoking of tobacco.
A simple lifestyle is essential for poverty reduction since greed leads society towards unlawfulness, bribery, terrorism, etc  If we encourage a simple lifestyle amongst young people then no one can abuse them for their own selfish motives.
A session on gener balance was conducted by Mrs Lina Khalid. She said that in a male dominated society gender imbalance blocked the way to development.  In some areas of Pakistan people do not want girls and women to get an education.  If some women successfully complete their education they are not allowed to choose any profession.  They should be encouraged to participate equally in the well being and support of their families.  Men and women should have equal rights and responsibilities in society.
Group activity
Participants were divided into four groups to discuss what they considered to be the main causes of poverty in the country and suggest solutions:
Mr Shamoon Masih  said that peace needs to be begin from within us as individuals who should then form a collective movement for establishing peace.  Young people should then join with other peace movements and advocate against unlawfulness using participatory approaches.  We should condemn activities which cause discrimination, the violation of human rights and extremism.
Mr Yousaf Dominic thanked all the participants and said that FIOH Pakistan intends to arrange more seminars on different topics in the future to promote the culture of peace.   All are encouraged join this task of peace building, interfaith harmony and a develop a behaviour of tolerance in society.
On 22nd Feb 2010 at Mirpurkhas, Sindh FIOH and PVDP organisaed a Peace Rally.
About 60 members took part in the rally.  The rally walk started from St Teresa Hospital to the Press Club and participants chanted peace slogans along the way.  After the walk leaders of non government organisations and community leaders spoke to the participants.