Survey of disabled children in West Region of Cameroon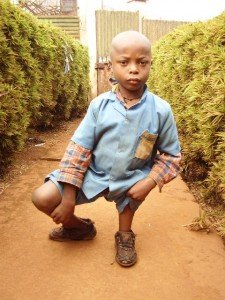 There appears to be little statistical information on disabilities in the West Region and few facilities for treatment. In 2010 the FIOH Fund provided a grant to the non government organisation Global Rehabilitation Services (GLORES) to carry out a comprehensive survey in all 8 divisions of the Region. In the  survey below a total of 10,493 disabled children were identified and 21 different types of disability.  Over 75% of those surveyed did not go to school and most were from poor families. Many villages are very difficult to access during the rainy season.  Most of the children had valgus or varus deformities.  The most common causes of disability were malnutrition, lack of health care services and societal beliefs that disabled children are possessed by evil spirits. Parents are sometimes ashamed to have disabled children which are then hidden away out of public view. There were some cases of children being drowned by witch doctors who had claimed they would turn into snakes as soon as they entered the water.
In 2012 Global Rehabilitation Services evaluated 1058 children in the West Region of Cameroon, 1,012 of which had disabilities.  126 of these received treatment at the organisation's centre in Bafoussam.
A table showing the results of the survey can be seen here:
glores-table-of-disabilities-2012