Future in Our Hands Education and Development Fund is working to alleviate poverty in the world's poorest communities.
It was established as registered charity in July 1995 (Registered Charity No. 1047953).

Sustainability
The FIOH Fund supports approaches that aim to alleviate poverty in a sustainable way by focussing on projects which:
are initiated by poor people through local non-government organisations

incorporate a strong element of education and training

enhance the status and involvement of women in the development process

create ecological awareness
An enabling and motivating approach
Our approach is based on a belief that development policies imposed on a community, without proper consultation and the active involvement of the people, can frequently compound their problems and create a climate of dependency.
The FIOH Fund has helped to empower people in peace, conflict and natural disaster situations to establish activities which are both economically and environmentally sustainable in the long term.
The Fund has supported a wide variety of projects which reflect our philosophy in urban slums, leprosy colonies and poor rural areas.
How you can help
We welcome your support whether you would like to make an individual donation or would like to become involved in fund-raising for a specific project.
We can supply details of individual small projects and feedback as the project progresses.
Since its registration in July 1995, the charity has supported projects in Cameroon, Pakistan, India, Sierra Leone, Thailand, Philippines, Kenya, Malawi, Uganda, Liberia, Zimbabwe, Nepal, Ghana, Tanzania, Gambia and Sri Lanka, with a focus on helping the world's poorest and most marginalized communities.  Many of the projects in India have helped tribal communities.
Most projects have involved an element of women's empowerment, education and vocational training.  The chart below shows the apportionment of FIOH Fund grants (1995 – 2015) into broad categories.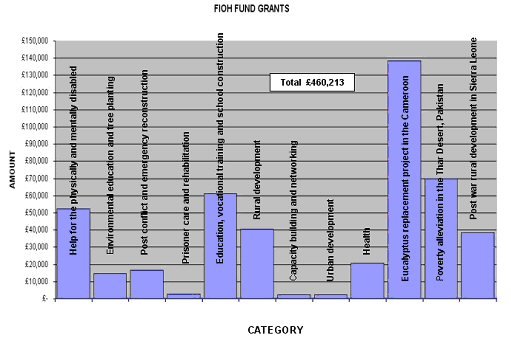 The charity is currently focussing most of its grant support on the treatment and rehabilitation of severely disabled children in the Cameroon through its partner organisation Global Rehabilitation Services. An update on the project can be seen in the newsletter below:

FIOH FUND NEWSLETTER 2 – WINTER 2017
We welcome your support whether you would like to make an individual donation or would like to become involved in fund-raising for a specific project.
We can supply details of individual small projects and feedback as the project progresses.
Long-term support helps us to plan for the future. If you would like to help in this way you might like to complete a bankers order instruction. If you are living in the UK and pay tax at the standard rate or more we can claim an extra 25% from the Inland Revenue at no cost to yourself if you complete a gift aid declaration.
Both are to be found on the same  FIOH FUND DONATION FORM
Please print off from this site and send to the address below (not to your bank):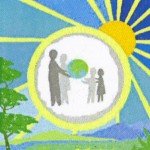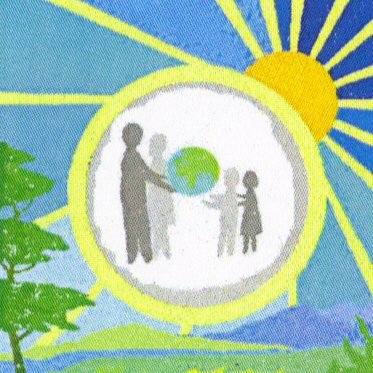 Registered Charity Number 1047953
FIOH FUND – ANNUAL REPORT 2014 – 2015
FIOH FUND – ANNUAL REPORT 2015 – 2016