Philonomics – A Science of Common Sense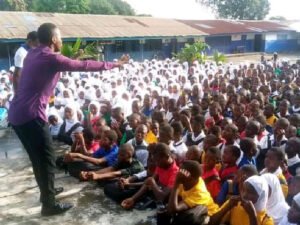 Philonomics is a new social science first launched in 2022  at a School in the Tonkolili District of Sierra Leone. The name Philonomics was conceived by a civil engineer, Michael Thomas in 2010.
Philonomics can be launched at anytime, anywhere.
As Michael Thomas writes in the Swindon Advertiser:
I believe most of crises that threaten humanity (not just global warming) are related to economic growth, which is the main cause of the inequality between rich and poor and the unsustainable use of fossil fuels.
Hence I am suggesting the development of a new science which I am calling Philonomics. My suggested definition is:
The study of the equitable production and fair distribution of goods and services globally in a sustainable manner

Science relating to the fair and equitable development and regulation of the material and human resources of a community or nation in a manner that does not prejudice human needs in the present nor the ability of future generations to meet their needs

Science related to international social justice and the ecologically sustainable production and fair distribution of material wealth and knowledge.
The rules of economics that deliver the bulk of the world's resources to the rich nations of the world, are a crime against humanity as a whole.
Global warming threatens us all and therein lies a seed of hope for a fairer world in which we may all increasingly have to view the natural forces of nature as our greatest enemy.
https://www.swindonadvertiser.co.uk/yoursay/1431721.plenty-of-ways-to-save-energy/