FIOH Sierra Leone – responding to climate change and Covid 19
ACTIVITY REPORT
PROJECT        :           Local response to climate change and Covid19
Funder          :           FIOH Fund -UK
COST              :           GBP 545
REPORTING DATE:  4thJune 2020
Brief background
In a bid to integrate climate change in development projects, FIOH-SL in collaboration with FIOH-UK supported farmers to mitigate climate change through scaling up the adoption of regenerative agriculture. This involved farming practices that work together not just to sustain, but to increase the carrying capacity of the land, restoring the natural fertility of agro-ecosystems.  Core practise involves permanent soil cover with living plants, minimum or zero tillage, maximization of biodiversity, composting from zero waste in the farming system and reduction of agrochemicals with a view of their elimination.
FIELD ACTIVITY RESULT
Result of activity 1: Organize community sensitization meetings on climate change:
Two community sensitization meetings were organized which attracted 50 participants, farmers, stakeholders, facilitator and participants to share learning on the following:
WHAT IS CLIMATE CHANGE?
Following the discussion on the literal understanding of climate change, participants also brainstorm, on the kinds of climate hazards.
Heavy wind

Increase in the frequency and magnitude of warm daily temperature (extremes and decreases)/prolong day seasons from October May)

Frequency heavy precipitation/rainfall.

Spring/small rivers completely dry up during the day season.
IMPACTS OF CLIMATE CHANGE
Water shortage

Floods

Heat waves

Droughts

Outbreak of infectious diseases.
 Traditional/cultural practices adopted in the past to mitigate climate change as:
Establishment of fire belts around forest reserves in March.

No bush clearing around water catchment areas.

Secret society bushes as protected as forest reserves.

Forest reserves known as village green surrounding the entrance of villages protected.

Bush fallowing for 15 years to encourage regrowth.
RESULTS OF ACTIVITY 2 – Practical training on Agroecological/ farming.
25 farmers (15F,10M) received practical training (5 per session) of farm design, planting methods, plant spacing, zero or minimum tillage practice, composting from zero waste and field application. Monitoring results reveal that farmers are gradually adopting these practices on their own farms.
RESULTS OF ACTIVITY 3 – Seeds and tools support. Following the procurement of assorted seeds and tools, these items were distributed to farmer field school representatives.
FIOH-SL seeds and tools support to cross-section of farmers.
RESULTS OF ACTIVITY 4 – Seed multiplication and demonstration farms.
Two multiplication and demonstration farms were established in two communities using permaculture/agroecological principles – farmers working with natural forces or farming using natural approaches, the wind the sun and water to provide food, shelter, and everything else including compost, farm/ gardens needs beside seeds and plants. Any farm established using these principles is a permaculture /agroecological farm.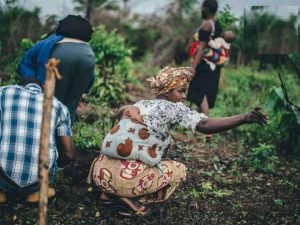 FIOH -SL support to the establishment of two permaculture farms.
CHALLENGES
Overwhelming demand for the project activities by other FIOH operational communities in Tonkolili and Koinadugu districts.

Frequent lockdown caused by Covid19 is affecting farm management.

Lack of on farm hand washing stations to prevent Covid19.

Farm work rationed with a batch of 5 Farmers per day as a result of Covid19.
 WAYS OF OVERCOMING CHALLENGES
Representatives from the demanding villages were included in the on-farm training and promised to be given some proceeds from the established multiplication farms as starter seeds to establish their own farms.  Development of community pilot projects by FIOH-SL is underway to service other communities.
FREQUENT LOCK DOWN CAUSED BY COVID 19
  A detailed concept Note will be shared with National and International     donors for possible support.
LESSONS LEARNT.
Household food insecurity exacerbated by the global lock down by Covid19 reveal the extent that existing food systems (and the people underlying them) have been undervalued and under-protected.
Please support the work of the Future in Our Hands Education and Development Fund whose aim is to help and empower some of the world's poorest and most marginalised people by:
UK residents can provide long term support by completing the FIOH FUND DONATION FORM and sending to the address shown on the form:
Cheques should be made payable to the
Future in Our Hands E&D Fund
—————————————————————————-

Fundraising to help the work of the charities would be greatly appreciated